All enrolled Suzuki students attend a group class once a week with peers the same age and ability.
Parent attendance is required for students ages 2-10 and parents will be the child's assistant during class.
Suzuki Group Class Dates: 
September 12, 2022-May 20, 2023
No Class:
Oct. 7-10

Nov. 11-12

Nov. 21-26

Dec. 12-Jan. 15

Feb. 17-20

Mar. 19-April 1

April 7-9
In-Studio Classes:
All Suzuki Group Classes will be held in person this year.
Masks wearing in accordance with current Cook County regulations.
Bring:
All students should bring their Suzuki book, magnet staff board, and instrument (if violin/viola) to each class.

Jaguar Piano Class
Tuesdays 4:15-4:45pm with Dr. Grace
 No class Nov. 22, Dec. 13-27, March 21-28

Lion Piano Class
Thursdays 6:00-6:45pm with Dr. Dan
 No class Nov. 24, Dec. 15-29, March 24-31

Zebra Piano Class
Fridays 4:30-5:00pm with Mr. Octavio
 No class Oct. 7, Nov. 11, Dec. 16-23, Jan. 13, Feb. 17, March 24-31, April 7

Crocodile Piano Class
Fridays 5:00-5:30pm with Mr. Octavio
No class Oct. 7, Nov. 11, Dec. 16-23, Jan. 13, Feb. 17, March 24-31, April 7

Elephant Piano Class
Fridays 5:45-6:15pm with Mr. Octavio
No class Oct. 7, Nov. 11, Dec. 16-23, Jan. 13, Feb. 17, March 24-31, April 7

Dolphin Piano Class
Fridays 6:15-7:00pm with Mr. Octavio
No class Oct. 7, Nov. 11, Dec. 16-23, Jan. 13, Feb. 17, March 24-31, April 7

Monkey Piano Class
Saturdays 9:00-9:30am with Dr. Grace
No class Oct. 8, Nov. 12, Dec. 17-31, Jan. 14, Feb. 18, March 25, April 1, April 8

Panda Piano Class
Saturdays 9:30-10:00am with Dr. Grace
No class Oct. 8, Nov. 12, Dec. 17-31, Jan. 14, Feb. 18, March 25, April 1, April 8

Flamingo Violin Class
Mondays 6:00-6:45pm with Ms. Susan
 No class Oct. 10, Nov. 21, Dec. 12-Jan. 2, Feb. 20, March 20-27

Chickadee Violin Class
Fridays 4:15-4:45pm with Ms. Katie
 No class Oct. 7, Nov. 11, Dec. 16-30, Jan. 13, Feb. 17, March 24-April 7

Penguin Violin Class
Fridays 4:45-5:30pm with Ms. Katie
No class Oct. 7, Nov. 11, Dec. 16-30, Jan. 13, Feb. 17, March 24-April 7

Robin Violin Class
Fridays 5:45-6:15pm with Ms. Katie
No class Oct. 7, Nov. 11, Dec. 16-30, Jan. 13, Feb. 17, March 24-April 7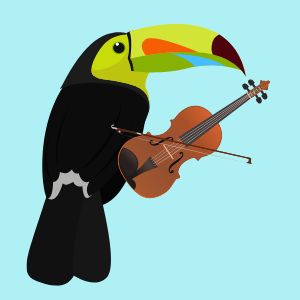 Toucan Violin Class
Fridays 6:15-7:00pm with Ms. Katie
No class Oct. 7, Nov. 11, Dec. 16-30, Jan. 13, Feb. 17, March 24-April 7