Guidelines for Online Private Lessons at Mattix Music Studio
Thank you for reading over our guidelines before your online private lesson. Even when private lessons are online, students are still able to learn, grow, have fun and make great progress.
Here are guidelines for how to prepare for your upcoming online lesson…
Parent's Job:
A caregiver must be present for the entire lesson to assist their child age 0-15.
The caregiver will be the assistant for the child, helping them to understand what the teacher is asking, finding spots in the music, and moving the camera.
Sound Quality & Technology:
Your teacher at Mattix Music Studio will have a preference for using FaceTime or Zoom. Both are easy, user-friendly, and have been successful already in online lessons. We will be notifying you regarding which application your teacher wants to try first. Depending on the internet speed and devices used, one or the other application may end up working better for you. Be prepared to use either app just in case. FaceTime comes with all Apple devices and Zoom is a free app you can download on Apple or android devices.
FaceTime:
If your teacher is using FaceTime, he or she will call you at your scheduled lesson time. Lessons will end about 2 minutes early to give your teacher the chance to get the contact information ready for the next lesson and to freshen up. Thank you for your understanding as we all make allowances for unusual circumstances.
Zoom:
If your teacher is using Zoom, you will receive an email inviting you to join a meeting with an ID and a password. We recommend downloading the app Zoom on your mobile device to make logging in and joining meetings easier. Watch their online tutorial videos for how to use the easy, free app. Join your meeting at your lesson time and your teacher will join when he or she is ready for you.
Music:
If your student is using a standard method book (Piano Adventures, Suzuki, I Can Read Music, Mini-Books), then your teacher will have a copy to look at during your lesson. If your student is using separate sheet music or repertoire, you may need to scan your music and email it to your teacher ahead of time.
Setting up the home environment:
Online lessons should happen in a room without distractions or siblings.
Turn off all external noises that may be heard like TVs, silence your cell phone, etc.
Get all your lesson materials out ahead of time – instrument, music, notebook, pen/pencil, metronome, doo-dads to balance on your violin or put on the piano keys, etc.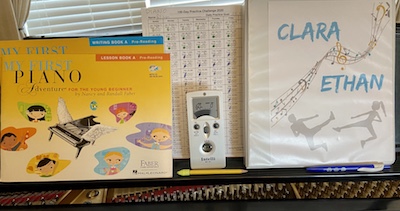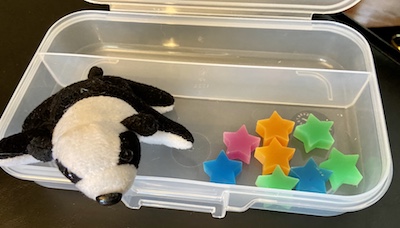 Students may need help finding measure numbers or specific notes in their music that the teacher would normally point out. The parent will be the assistant to guide the student and help them understand what their teacher is asking.
Set up your camera device and make sure that the view is correct according to the specifics in our piano post and violin post.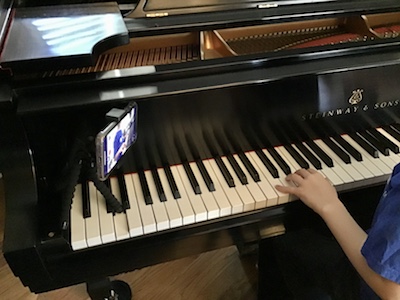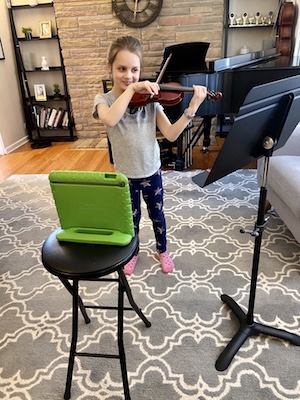 Policies
The same studio policies apply to online lessons as in-person lessons. Thank you for your understanding and flexibility with adjusting to our online learning options.
You got this!
We are looking forward to seeing you soon for our next online private lesson!
Don't forget – your teacher is your greatest resource and biggest fan. Talk with him or her about any questions, recommendation, concerns or problems you're experiencing.
Thank you for all you do to support your child making music!